As of April 16, 2020 SARS-CoV-2 Response
We are committed to the safety and health of all our Worldwide Employees and Customers and will endeavour to follow all guidelines of Centers for Disease Control and Prevention (CDC), Public Health England and applicable local governments. During this time all our global teams will be following Work-From-Home directives and will continue to work normal business hours. We apologize for any delay in responses and appreciate your understanding.
Go TAPI est livré en tant que disques d'installation autonomes et, une fois installé, fournit un utilitaire pratique disponible dans la barre d'état système Windows pour la configuration et la surveillance du pilote.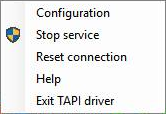 Le pilote peut être configuré pour fonctionner en mode premier parti (côté client) ou tiers (côté serveur). Un type de licence Go TAPI est nécessaire (livré sous la forme d'une clé de licence à 8 chiffres) et elle sera utilisée par le PC sur lequel le logiciel est installé. En mode première partie, une clé de licence contiendra une licence unique et plusieurs licences seront incluses dans la clé de licence du mode tiers.