As of April 16, 2020 SARS-CoV-2 Response
We are committed to the safety and health of all our Worldwide Employees and Customers and will endeavour to follow all guidelines of Centers for Disease Control and Prevention (CDC), Public Health England and applicable local governments. During this time all our global teams will be following Work-From-Home directives and will continue to work normal business hours. We apologize for any delay in responses and appreciate your understanding.
"Full screen mode"
When using GI-CE with browser applications (e.g. Salesforce) it may be more common to use it in "Full screen mode" i.e. as a tab in a maximized browser window. To switch to GI-CE from another browser tab, simply click on the GI-CE icon in the browser toolbar and select the feature you want (e.g. Presence). This will take you straight to the right place in the GI-CE browser tab.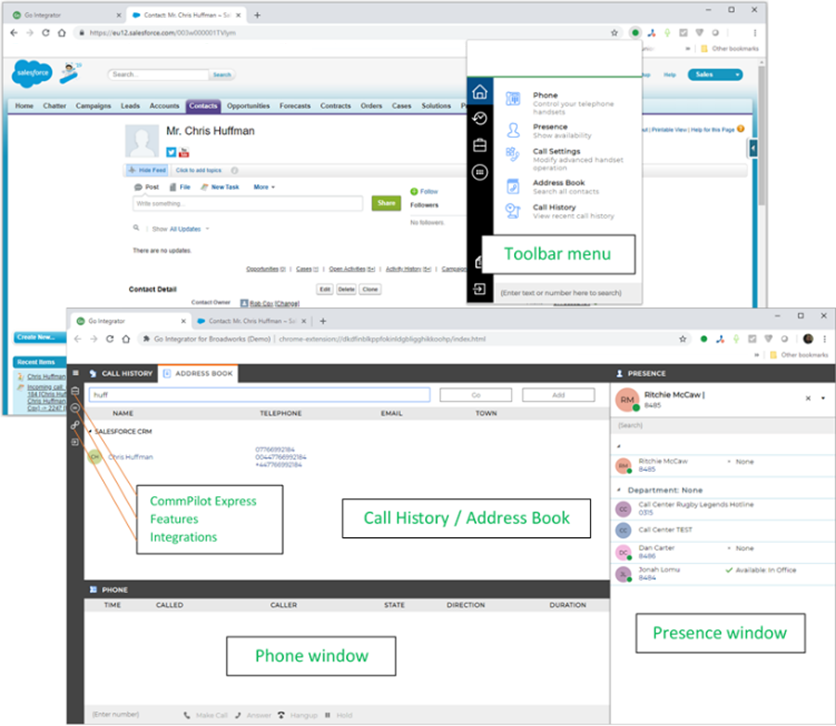 ---
"Compact mode"
When using GI-CE with desktop (non-browser) applications it can be very effective to use it as a standalone browser window set to its minimum width.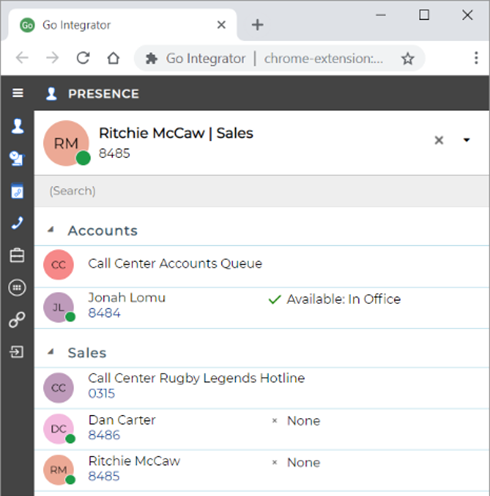 Anrufe tätigen
Making calls from your computer is straightforward with Go Integrator CE for Broadworks. Es wird Ihre Produktivität erhöhen, indem Sie Zeit sparen und außerdem die Anzahl der verwählten Nummern reduzieren.
---
Entgegennahme von Anrufen
Go Integrator CE for Broadworks can be used to tell you who is calling before you answer the phone. Dies kann sich in vielerlei Hinsicht als vorteilhaft erweisen.
Wenn Sie mit einem Projekt beschäftigt sind, können Sie die Einstellungen so verändern, dass nur noch selektierte Anrufe durchgelassen werden. Darüber hinaus mag es Ihnen ermöglichen, die Anrufer auf eine persönlichere Art und Weise zu begrüßen. Es ist sehr einfach, den Namen des Anrufers von entgegengenommenen Telefonaten zur künftigen Verwendung zu speichern. Mit CRM-Integration werden die Details der Anrufer zudem schnell durchsucht und angezeigt.
---
Anrufe durchstellen
Go Integrator CE for Broadworks provides an easy method to transfer calls. Mithilfe des Präsenz-Fensters wird es Benutzern ermöglicht, die Verfügbarkeit ihrer Kollegen einzusehen und intelligente Entscheidungen hinsichtlich der Durchstellung von Anrufen zu treffen.
Benutzer können eine sofortige Durchstellung ausführen, um die Anrufe schnell zu verteilen. Or they can easily use Go Integrator CE for Broadworks to consult with colleagues and switch between calls.
Go Integrator CE supports two separate ways of dialing from web pages.
Webseiten können nach gültigen Telefonnummern durchsucht werden und dann, wenn welche gefunden wurden, in Links verwandelt werden, um den Wählvorgang zu vereinfachen. Also, Go Integrator CE can be configured to provide dialing directly from many web-based CRM packages.
Go Integrator CE Presence provides a quick way to check the availability of your co-workers. The Presence window is accessible from the tray menu.
-Check status of a colleague's extension in the Presence window
-BLF circle also indicates DND and Forwarding (when set)
-Call and transfer calls to colleagues straight from the Presence window.
-Current version is limited to monitoring 250 users (expect to raise to 500 for final release candidate)
Go Integrator CE benefits from many of the same features as the desktop client including:
-Searching of Broadworks Group and Common directories
-Reading and update of Personal Phone List
-Configuration of Anywhere, Remote office, CommPilot Express
-Setting of CommPilot Express, DND and Call Forward
-Recent calls and Call history